A raclette party is a wonderful way to gather around your favourite people for a fun and delicious communal meal. Learn how to throw one of your own for an evening to remember!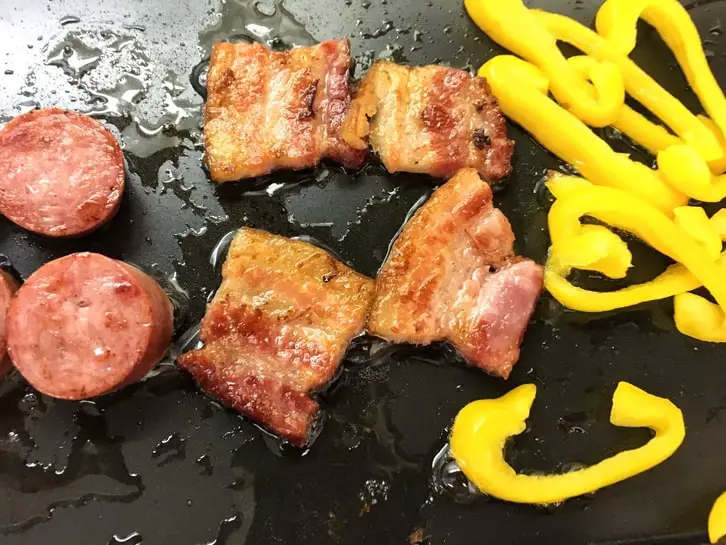 This post may contain affiliate links, meaning that if you choose to purchase something after clicking on one of the links in this post, I may earn a small commission at no additional cost to you.
THE VIDEO ABOUT RACLETTE PARTIES
If you'd rather listen in to my raclette party wisdom, check out the video, but make sure to scroll down for more tidbits. By the way, if you like what you see, I hope you'll subscribe to my YouTube channel!
WHAT'S A RACLETTE PARTY?
If someone invites you to a raclette party, do you know what that means? It means you can expect to be seated around a table with other friendly faces, much like you would with fondue. Instead of a burner and a pot, there's a griddle and everyone has a little tray that they fill with the available fixings. Underneath the griddle, there's a broiler that everyone fits their trays under for the cheese to melt.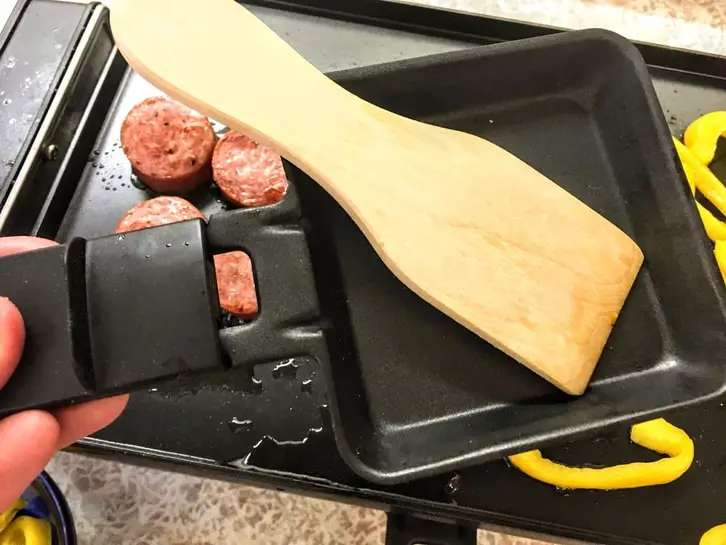 WHAT, THERE'S CHEESE?
Not only is there cheese, but raclette is a cheese. This was revelatory information for me. Of course, I knew I could buy raclette cheese, but I always thought raclette referred to the special griddle with the broiler. Wrong. It's the name of the cheese! A Swiss cheese, to be exact, but it's made all around the globe and there are different flavours available depending on where you are. In Canada, I've sampled apple cider washed raclette, black peppercorn, smoked, and regular.
Additionally, raclette is a semi-hard cheese. It usually comes sliced, which is how you will want to serve it at the table. If you frequent a cheese monger as I do, you might accidentally come home with a wedge of it, but that's what cheese slicers are for. Lastly, while we're on the topic of cheese, raclette is best melted, which is why folks are throwing raclette parties everywhere. Actually, I don't think it's that common, but it should be! Why are we letting the Swiss and the French in Savoie have all the fun?
THE RACLETTE GRILL
Before you run out and get raclette cheese, there's one important thing you'll need to start throwing raging raclette parties: a raclette grill! There are so many different types to choose from, so which one should you go with?
If you've been with me for awhile, you'll know I'm all about cast iron cooking. With cast iron, you don't need to worry about scratching the surface, but you will need to care for it just like any other cast iron apparatus. Another perk is that you can use the griddle part in the oven or on the barbecue.
These grill tops not only look gorgeous, but like cast iron, they will evenly distribute the heat. If you can afford it, it's a chic option that gives you a natural surface to cook on, but on the downside, it may crack and stain over time.
If you're on a tight budget, a non-stick raclette grill is the most affordable option. This is what I use, which means I'm careful to use gentle utensils so that I don't scratch the Teflon coated surface.
RACLETTE ACCESSORIES
Most raclette grills come with either wooden or plastic scrapers that allow you to empty out your trays once they're pulled from under the broiler. Raclette tongs are another handy thing to have for diners to pick off what they want from the grill. Personally, I find these tongs unwieldy and prefer these stainless steel tongs with silicone grips.
WHAT SHOULD I SERVE AT MY RACLETTE PARTY?
Every raclette party needs potatoes, and lots of them. Who doesn't love cheesy potatoes? I love using little potatoes, because they're just so darn easy to work with. If you don't want to spend extra money on tiny tubers, you can cut up regular sized potatoes in bite-sized chunks. Make sure to boil the potatoes in advance!
Vegetables are another thing you will want to consider having at the table. Think zucchini, broccoli and asparagus; onions (raw or caramelized) and sweet cherry tomatoes; sliced bell peppers, mushrooms, and roasted garlic (learn how to roast your own HERE). Put your favourite vegetables on the table for everyone to grill and enjoy.
Apart from the cheese, meats are what my husband, Big Papa, would say are the highlight of raclette. Part of the raclette experience is grilling food items, so we always make sure to have an assortment of meats to sizzle. Favourites include sausage, bacon, pork belly, and marinated chicken and beef. There are no rules, except maybe that the meat should go well with cheese. That's most meats though, isn't it?
Charcuterie is another thing you can serve, although not necessarily for grilling. It's something the tray can be filled with, especially in the beginning when the table is waiting for the meats to grill up. Prosciutto, anyone?
CONDIMENTS FOR YOUR RACLETTE PARTY
Pickles. Little cornichons and cocktail onions are perfect for raclette. It's also really easy to flash pickle a red onion or a shallot by marinating it in red wine vinegar for a few minutes.
Mustards. This is an occasion to pick up a couple of gourmet jars of mustard. Do you know the ones I'm talking about? They're the ones you always eye in gourmet food stores, but never buy because it's not a gift and when would you ever use them? Plain old dijon mustard works, too. My favourite brand is Maille.
Sauces. Some classics include Béarnaise, hollandaise, and gribiche. I like making my own from scratch because they taste so much better and I can control the ingredients, but if you're in a pinch, a store bought version will do. A dijon or spicy mayonnaise would be a welcome addition, too.
RACLETTE PARTY PREP
The nice thing about hosting a raclette party is that there isn't too much work involved. The evening before, or perhaps the morning of your party, you can begin your prep work so that you can enjoy spending more time with your company once everyone arrives. Here are some of the steps you can take in advance to make your raclette party a breeze:
Boil the potatoes in salted water.
Slice and marinate the meats (if applicable).
Slice onions, green peppers, and any vegetables you're using.
Arrange the cheese and charcuterie on a platter to pass around.
Make (or buy) the sauces you're planning on serving.
Dig out your raclette grill and the accessories.
Set the table, tidy up, get yourself ready, find a great playlist, and light some tea light candles for ambiance.
WHAT DRINKS SHOULD I SERVE AT MY RACLETTE PARTY?
I'm the last person who should tell you what kind of alcohol to serve at a raclette party as I'm not a sommelier. However, you wouldn't go wrong with picking out a dry white wine, like a sauvignon blanc, a riesling, or a Gewurtztraminer. I would also consider a nice rosé. If you're not a wine drinker, a crisp cider or a light Pilsner-style or Kölsch beer might be more up your alley. It is said that drinking herbal tea (which is what the Swiss do), aids with digestion. I haven't tried this myself, but it's something to bear in mind.
GET PLANNING
All in all, a raclette party is just the thing for warming your home on a cold winter day. When the days are short and sunlight is hard to come by, it's so important to create a cozy atmosphere in your home and stay upbeat. Inviting family and friends over to share a meal need not be stressful, which is why raclette is a wonderful option to consider. Have you been to a raclette party before, or thrown one? Is this a completely new concept to you? I hope you'll let me know your thoughts in the comments below!
OTHER PARTY IDEAS
Family friendly pizza party potlucks
SHOP THIS POST
Stainless steel tongs with silicone grips
PIN IT FOR LATER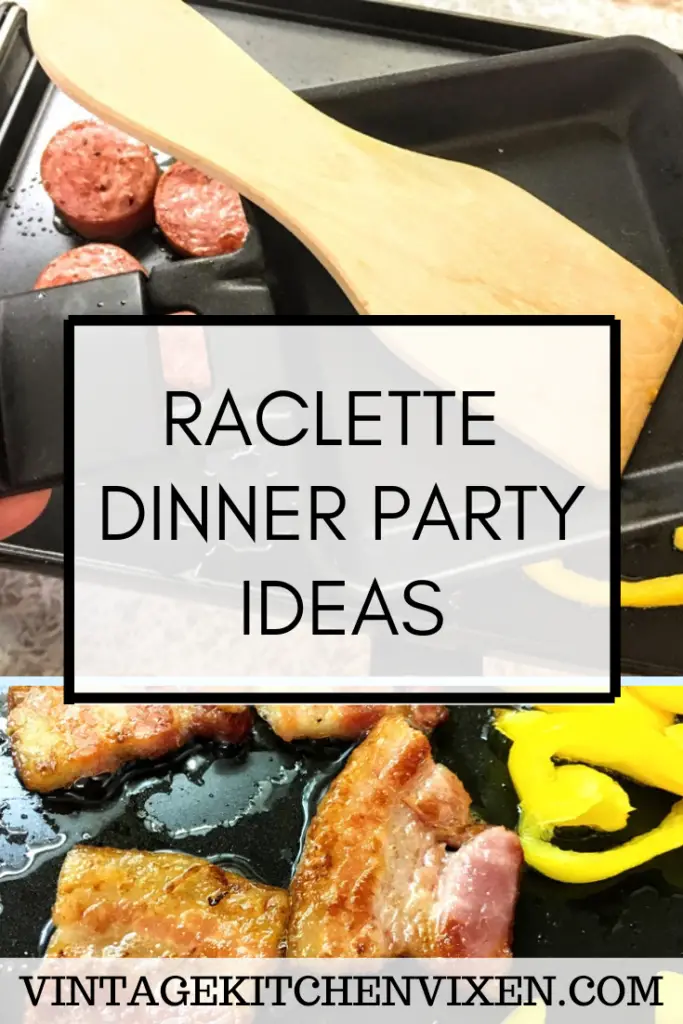 Love and gratitude,