This pan-fried chicken caesar salad is going to make all other chicken caesar salads pale in comparison once you take your first bite. Flavourful panko-crusted chicken, crisp romaine lettuce, garlicky homemade dressing and the easiest croutons you will ever make, you won't want to go back!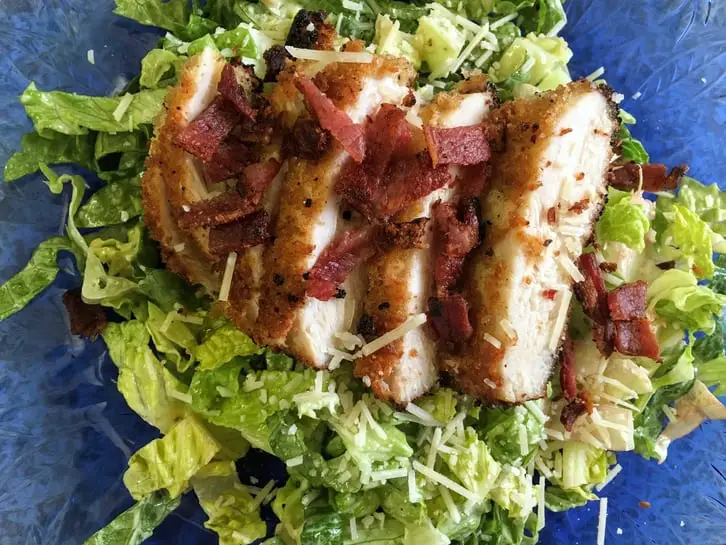 This Pan-Fried Chicken Caesar Salad post may contain affiliate links, meaning that if you choose to purchase something after clicking on one of the links in this post, I may earn a small commission at no additional cost to you.
PAN-FRIED CHICKEN CAESAR SALAD VIDEO
Have you ever heard the saying "good food takes time"? That adage applies here. There are a lot of steps, but it's well worth the effort. If you want to see everything that's involved, here's the video tutorial! If you're a fan of my "silent-film mode", I hope you'll subscribe to my YouTube channel!
PAN-FRIED CHICKEN CAESAR SALAD: A GAME CHANGER
Congratulations, you have just struck Caesar salad gold! I have no idea how many chicken caesar salads I have eaten in my life, but this pan-fried chicken version is to-die-for. I must warn you: there are a lot of steps involved. You'll have to clarify butter, make your own caesar dressing, and fry up some croutons, but by golly is it ever worth it. I hope you love it as much as I do!
…