Cracking open a coconut for the first time is quite the experience. If you have a coconut sitting on your kitchen counter that you don't know what to do with, let me walk you through it!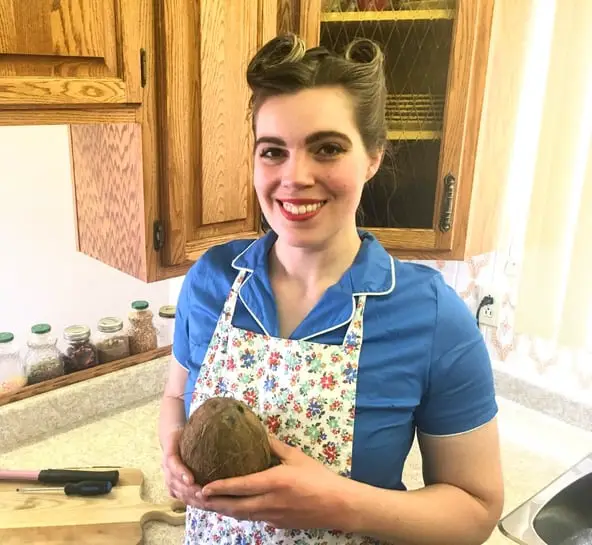 This Cracking Open a Coconut post may contain affiliate links, meaning that if you choose to purchase something after clicking on one of the links in this post, I may earn a small commission at no additional cost to you.
CRACKING OPEN A COCONUT VIDEO
Here's a disclaimer for you: I am as new at cracking open a coconut as you are. I am also a coconut fiend! I adore coconut, but until recently, I had never tried cracking open my own, so I filmed my first attempt. If you're new to the Kitchen and are moderately entertained by my video, please consider subscribing to my YouTube channel! I'd love to have you along for the ride.
"I GOT YOU A COCONUT"
This is not what I was expecting to hear when my husband came home from doing errands while I was filming. Normally he surprises and delights me with chocolate, kombucha and cinnamon rolls from the local bakery, but a coconut? I wasn't expecting that one. What was I going to do with it? Throw it? My little boy did. He thought it was a ball. It can be intimidating, being presented with something new. I mean, I adore coconut, but it's usually already flaked, shredded, or creamed, so I don't need to do anything. If I want coconut water, I go to the store and buy it. Instead, "I got you a coconut".
…