Learn the theory behind how to make your own juicy cast iron skillet burgers so you'll never need to look up a recipe or buy frozen burger patties again!
This article may contain affiliate links, meaning that if you choose to purchase something after clicking on one of the links in this post, I may earn a small commission at no additional cost to you.
CAST IRON SKILLET BURGERS RECIPE VIDEO
If this is your first time visiting the kitchen, you're about to find out why I call my kitchen vintage… If you like my style, please consider subscribing to the Vintage Kitchen Vixen YouTube channel!
THE LAST BURGER RECIPE YOU WILL EVER NEED
While writing this post to see what the leading brand of frozen patties was, I ran a quick internet search and was surprised to see the results overflowing with recipes. Recipes for the "Juiciest Hamburger Ever" and "How to Make Perfect Burger Patties" and "The Classic Burger Recipe". Um, excuse me?
Growing up, I watched my mother make burger patties so many times that the idea of digging up a recipe never occurred to me. My dad taught me how to make pancakes and homemade kefir milk, and my mom taught me how to make flavourful burgers from scratch. I don't think she ever used a recipe to make her burgers, and by the end of this post, you won't need to either.
LEARNING HOW TO FISH
Let's face it. Recipes take up so much time. They remind me of frivolous kitchen gadgets like avocado slicers that you have to root around for in your kitchen drawers. By the time you find the darn thing, you could have gotten the work done with the humble kitchen knife that just wants to please you and maybe get sharpened once in awhile.
It's funny hearing that from me, right? The bulk of my posts are recipes! However, my goal in writing about food is not to dictate how to prepare something. It's to share the formula behind how to make it so that the other rules can go out the window. I don't want you to have to read and reread the recipe or fret if you missed a step. Yes, I'm giving you a fish (a recipe), but I'm also showing you how to catch your own at the same time.
HOW DO I MAKE CAST IRON SKILLET BURGERS?
First off, you're going to need a cast iron skillet. You're also going to need a pound of ground meat, an onion, a clove or two of garlic, a 3/4 cup of filler (breadcrumbs are a popular option), herbs, seasonings, and an egg. We're going to take a look at each one. Follow me!
THE MEAT OF IT
What's in the freezer? What's on sale? Did you catch anything while you were out hunting this week? I'm all about using what you have on hand before you run out and buy something. The type of meat doesn't really matter; however, I do have to advocate for good meat. I'm frugal, but I splurge where it's worth it. Try to source meat that's local and sustainably and humanely raised, and that hasn't been pumped full of growth hormones or antibiotics.
Get to know your neighbourhood butcher or visit a food co-op. Better yet, plan a day trip to a farm and buy at the source. Try making these cast-iron skillet burgers with beef, pork, chicken, or turkey. Go wild with boar, venison, or bison. If you have a stand mixer and a food grinder attachment like I do, you can even make your own ground meat. My husband and I have done this with meats that are hard to find pre-ground, notably duck, liver, and goose.
THE ALLIUM
Every single batch of burger meat I have ever made has onion and garlic in it. If you're not a fan of garlic, you can leave it out, but keep the onion! The flavour permeates the meat. I chop my onion, but if you don't want chunks of onion in your burger or want to hide it, no sweat. I suggest grating the onion into a pulp over your work bowl so you don't lose any of the juices, but get ready to cry!
THE FILLER
Unless you want a pure ground meat patty, use a filler. There's no rule saying that you have to use one, but I like what it does for the texture. I also find that the burgers hold together better when it comes time to cook them. Again, I like to use what I have on hand. Breadcrumbs are a classic option, but if I have a lonely heal of bread that no one wants, I'll run it through the food processor (if it's dried) or tear it into itty bitty pieces. Lately, I've been favouring Panko bread crumbs over regular breadcrumbs–there's even a gluten-free option available for those who avoid gluten in their diets. If we're talking gluten-free though, rolled oats are another good option. Yes, oats! Oats make a great filler.
HERBS AND SEASONINGS
This is where it really gets fun, especially if you grow your own herbs. In my humble opinion, fresh is best, but if you don't have fresh, use dried. There's no sense in buying a bundle of parsley just for burgers (unless you plan on using it, of course)! My favourite herbs to use for this purpose are parsley and dill, but it all depends on the meat and your preferences? Why not oregano? Sage? Basil? Lemongrass? For seasonings, salt and pepper are essential, and I always dash in a few shakes of Worcestershire sauce no matter what.
Depending on what kind of burger you're going for–and I'll help you out with some ideas below–the sky is the limit. If you want a wee bit of warmth, grate in some ginger root. Try mixing in some mustard or a few capers. Heck, shake it up with Montreal Steak Spice (this one is my favourite) or lemon pepper. The gamut doesn't stop there. When you're happy with the flavour–and I always taste the tiniest pinch which I immediately spit out, of course–level it up. Form your patties with cheese curds, goat cheese, or a smokey blue cheese in the centre.
COMBINATION IDEAS
Here are a few seasoning ideas. Remember to add your filler, allium and Worcestershire sauce!
TURN UP THE HEAT FOR YOUR CAST IRON SKILLET BURGERS
Heat the cast iron skillet over medium-high heat. Once the skillet is good and hot, coat it with a fat that has a high smoke point, like avocado oil or lard. Since cast iron retains heat, turn down the element to medium-low after popping your burgers patties in. Now wait. If you flip the burgers prematurely, they will stick to the pan, so be patient for five minutes and wash some dishes while they sear.
Flip the burgers, admire the colour, and continue cleaning. There are a couple of choices at this point: A) You can pop them in the oven to finish cooking. Naturally, you will need to pre-heat the oven to do this. B) Cook them low and slow in the pan for an additional 10-15 minutes and check them for doneness with a meat thermometer. The Spruce Eats has a nifty infographic to help you translate the numbers on your thermometer.
DRESS AND SERVE
When my mom made her burgers, she didn't serve them with buns. She'd make noodles or potatoes to go with them. I like sandwiches though, so I advise a crusty kaiser bun (bonus if it's homemade!) and the condiments to go with it: ketchup, mustard, mayo, and relish. Make up a plate with fresh toppings. We're in a time where burgers can get crazy, so consider serving yours with maple bacon, gut-healthy sauerkraut, or caramelized onions and sautéed mushrooms.
NEED A SIDE?
Don't serve your burgers alone! Here are some ideas to keep them company on the plate:
OTHER POSTS YOU MIGHT LIKE
SHOP THIS POST
PRINT CAST IRON SKILLET BURGERS RECIPE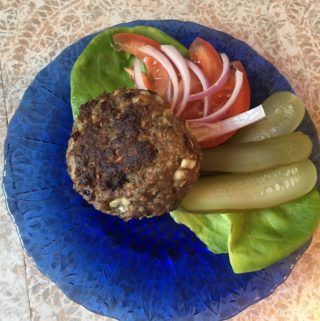 1/4 Pound Cast Iron Skillet Beef Burgers
Ingredients
1

lb

Extra Lean Ground Beef

3/4

cup

Panko Bread Crumbs

1

Onion

small

1

Garlic Clove

minced

1

Egg

1

tbsp

Parsley

chopped

1

tsp

Salt

1

tsp

Fresh Ground Pepper

6

dashes

Worcestershire Sauce
Instructions
Preheat oven to 375º F (optional)

Mix all ingredients together in a mixing bowl, adjusting ingredients if necessary

Add avocado oil to a cast iron skillet and heat on medium-high

Sear burgers for 4-5 minutes on one side before flipping, turning down the heat to medium-low

Sear other side for 4-5 minutes

Either finish the burgers on the element or transfer the skillet to the preheated oven
PIN IT FOR LATER
Love and gratitude,