Those pesky dandelions growing in your backyard are one of Nature's greatest gifts. Put them to good use by making this zesty Bacon Parmesan Dandelion Salad. You'll love it!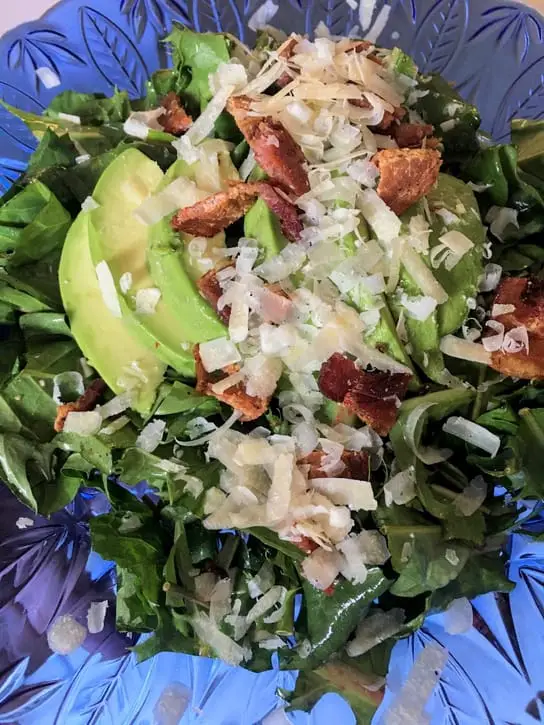 This Bacon Parmesan Dandelion Salad recipe post may contain affiliate links, meaning that if you choose to purchase something after clicking on one of the links in this post, I may earn a small commission at no additional cost to you.
BACON PARMESAN DANDELION SALAD RECIPE VIDEO
This nourishing salad couldn't be simpler to make. If you're new to the Kitchen, my videos are done with a vintage twist. If you like what you see, be sure to subscribe to my YouTube channel!
DANDELIONS = NATURE'S GIFT
At some point in history, someone decided to go to war against the dandelion. Troops of herbicidal homeowners were riled up to destroy this sunny plant and the war continues to this very day. I really don't understand it, because dandelions are one of the healthiest plants out there, and they're FREE!
Dandelions are truly God's gift to humankind because they are brimming with vitamins and minerals. These nutrient-dense weeds are full of vitamins A, B, C, K and E, and pack more potassium than a banana. Sulphur, magnesium, manganese, calcium, iron, and silicon, are just some of the other minerals found in dandelions. One thing that might turn some folks off from eating dandelions is that they are bitter, but not so fast!
…